Sweet Swiss Dreams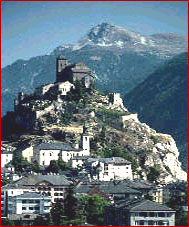 TOUR PROGRAMME -8 days/7 nights
Geneva – Emmental/Entlebuch – Lucerne – Interlaken – Montreux – Lausanne – Geneva


DAY 01 ARRIVE GENEVA

Arrival at Geneva Airport. Optain your 80-minute ticket free of charge for a ride to your hotel. The ticket machine is in the luggage retrieval hall. Overnight in Geneva.

DAY 02 GENEVA

Day at leisure in Geneva, this multi-faceted city of humane dimensions, has all a metro-polis can offer. The Geneva Transport Card is your free passport to Geneva's transport network.Your hotel offers you this card free of charge valid for bus, tram, train and taxi-boats. Overnight in Geneva.

DAY 03 GENEVA - LUCERNE

Board the train to Berne, Switzerland's capital, from where you can use the RegioExpress Kambly Train via Trubschachen to Lucerne. This train takes you through Switzerland's first UNESCO biosphere reserve. In the Emmental, the train stops in Trubschachen directly in front of the Kambly Experience where you can discover the secrets of fine Swiss pastries. For further information visit www.bls.ch/bern-luzern. Overnight in Lucerne.

DAY 04 LUCERNE - INTERLAKEN

From the heart of Switzerland you travel to Stans where you can take the new and world's first cabrio cable car to Stanserhorn. Continue your journey to Interlaken situated at the foot of the famous trio of peaks, the Eiger, the Mönch and the Jungfrau. Overnight in Interlaken.

DAY 05 INTERLAKEN

Are you up for some action? Check-out www.swiss-paragliding.ch and pre-book an exiting flight over Interlaken's mountain and lakes.

DAY 06 INTERLAKEN

Today we recommend you an optional excursion to i.e. Jungfraujoch – Top of Europe at 3454 m/11'333 ft or to Schilthorn / Piz Gloria at 3000 m/10'000 ft with its revolving panorama restaurant and its thrilling James Bond 007 history. Overnight in Interlaken.

DAY 07 INTERLAKEN - GENEVA

Rail journey through the wonderful Bernese Oberland and the Rhone valley to Montreux and further on to Lausanne and Geneva on the shore of Lake Geneva in the French part of Switzerland. On your way to Geneva you might want to stop and visit the Chillon Castle in Montreux or the Olympic Museum in Lausanne. Overnight in Geneva.

DAY 08 GENEVA DEPARTURE

Return to Geneva Airport with your Geneva Transport Card which you receive from your hotel.


OUR PRICE INCLUDES
Swiss Flexi Pass 5 days in 2nd class
3 nights each in Geneva + Interlaken, room, bath or shower/WC, breakfast
1 night in Lucerne, room, bath or -shower/WC, breakfast
Any additional tickets for optional ex-cursions to travel by rail, boat, postal-coaches and cable cars can be pur-chased at 25–50% of the regular fares, Free travel on public transport in 75 towns and cities, Free admission to more than 470 museums
PRICES PER PERSON : Valid from 1st April 2015 – 1st April 2016
Prices per person in CHF

3Star

3Star

4Star

4Star

1.-11.4.15 1.10.15 – 1.4.16
11.4-1.10.15
1.-11.4.15 1.10.15 – 1.4.16
11.4-1.10.15

Double room

995

1066

1175

1306

Single room

1269

1363

1704

1806
Supplement per person:
CHF 143 upgrading to 1st class rail