Cities in Switzerland - Interlaken

Tour Switzerland and travel through the major Tourist Destinations in Switzerland and grab more information on our website Switzerlandtours.net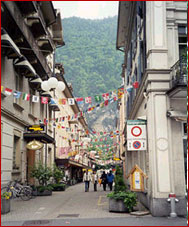 Situated in Bernese Oberland, Interlaken is a striking tourist destination in Europe. The Interlaken resort region consists of the quaint villages of Iseltwald, Bönigen and Ringgenberg-Goldswil on Lake Brienz, Wilderswil at the entrance to the mountain valleys and the mountain villages of Beatenberg and Habkern.

Experience a memorable holiday at the extraordinary place of Interlaken between the lakes of Thun and Brienz, at the foot of the imposing mountain peaks of Eiger, Mönch and Jungfrau!

Warm Summer

There are a number of first-rate tourist spots near Interlaken. Some terrific places around Interlaken are Jungfraujoch also known as the top of Europe as well as the Schilthorn peak, with its revolving restaurant. There are also numerous adventure sports facilities for such sports such as paragliding and river rafting. During summers, tourists can also enjoy an extensive range of hiking and biking paths around the region.

Chilling Winter

During winters, Interlaken has a lot to offer. Tourists can enjoy Skiing, snowboarding, tobogganing or just walk along snow packed trails. Interlaken can be reached from the Jungfrau Region or the Beatenberg which are just a few minutes by train or bus from Interlaken.


Montreux

The lovely little towns of Montreux and Vevey are nestled on the waterfront of a pristine lake. Enjoy the 15 km of lakeside where steamships ply up and down, the snow-capped mountains, the charming hotels and their many international celebrities.

The vine cultivation is a serious business in this region. The pleasant climate also makes Montreux and Vevey a very well-suited resort for a relaxing break or for weekend trips.


Why Visit Montreux?
To Adore the shores of Lake Geneva.
Warm Sunlight and Pleasant Temperatures
One of the finest panoramas in Switzerland
Intense cultural life with exhibitions, concerts and, above all, the famous Montreux Jazz Festival.
View vine cultivation