Cities in Switzerland - St. Moritz

Tour Switzerland and travel through the major Tourist Destinations in Switzerland and grab more information on our website Switzerlandtours.net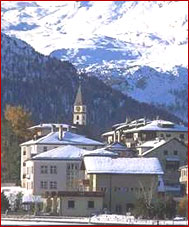 Located almost 6'000 feet high up in the Swiss Alps, the famed tourist destination of St. Moritz is a terrific place to be visited. St.Moritz enjoys more sunshine than any other place in Switzerland. When in St.Moritz, enjoy the pleasant climate and its wonderful cosmopolitan atmosphere.

Situated on the edge of a beautiful mountain lake, St. Moritz is best visited during the summers when it is at its most colorful. Its combination of a relaxed atmosphere, great shopping, sports and cultural activities makes it a must visit tourist location. With more than 150 events organised just in the winter, you will find yourself pressed for time in St.Moritz. Besides the traditional events, some other highlights are - the Downhill Skiing World Cup Races and the St. Moritz classic music festival "Snow and Symphony".

In addition to downhill skiing, snowboarding and cross country skiing, St. Moritz stages numerous attractions throughout the winter unlike any other place in the world: The Cresta Run, the bobsled run, the tobogganing run on Muottas Muragl, horse and greyhound races, as well as polo and cricket competitions on the frozen lake, the St. Moritz Gourmet Festival, gems weeks, ski jumping, the famous Engadin Ski Marathon with over 13'000 participants, and many more.


Lausanne Tourism

Situated on three hills with the Lake of Geneva and beautiful vineyards surrounding it, Laussane is a very picturesque town. The striking Swiss Alps are also nearby.

Lausanne is a colorful medieval town with small alleys and boutiques, cafés and restaurants. One can have an easy and relaxed stroll in the vineyards or attend to the other nearest tourist excursions which are equally attractive for the tourists in Lausanne. The cultural hue of this place is also evident in the extensive and numerous festivals celebrated here in the city.


Why Visit Lausanne?
"Olympic Capital" since 1994. Home to the Olympic Museum, the most visited site in Switzerland.
Béjart Ballet of Lausanne is world-famous.
The town combines the lake, the mountains, parks and little, narrow alleys to form a picturesque whole.
Over 16 of its restaurants are listed in top-ranking restaurant guides.
Students from all over the world leave their mark on the life and culture of the University.