Cities in Switzerland - Locarno

Tour Switzerland and travel through the major Tourist Destinations in Switzerland and grab more information on our website Switzerlandtours.net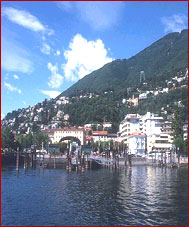 Locarno has a very pleasant climate and a lush subtropical vegetation. It turns enchanting at night when the arcades and portici , During the night, when soft tunes ooze out of city bars and restaurants and when city lights reflects upon the beautiful lake, the city takes on a surrealistic quality.

Piazza Grande is a wonderful place in Locarno. Just behind it lies the old Locarno, "la città vecchia." The old town was built during the Middle Ages and is one of the greatest architectural and cultural treasures of Switzerland. Within its inner courtyard lies beautiful churches, Castello Visconteo archeological museum and the beautiful town fortress. Locarno also plays host to the International Film Festival held here annually. With its grand open-air concerts, thrilling disco-nights, lake cruises and beach parties, Locarno has something for all.


Why Visit Locarno?
A variety of contrasting features
Climate, vegetation and Beautiful landscape
Charm, Tradition and Peacefulness
The International Film Festival of Locarno
Dolcefarniente while sipping a Cappucino at the Piazza Grande


Zermatt

Lying to the south-west of Switzerland, Zermatt is situated at an altitude of 1620 m. Zermatt is a unique place to visit as it is a car-free resort. Zermatt is situated in the canton of Valais in the Matter Valley. Zermatt offers wonderful vistas of 38 four-thousand-metre snow laden peaks to visitors and tourists.

Summer

Summers and Autumns are a good time to visit Zermatt when tourists can enjoy hiking and trekking, mountain biking, skiing and high-altitude tours. The mountains and valleys sorrounding Zermatt are home to more than a 1000 different floral species. Tourists can also enjoy summer skiing high up in the Alps from the beginning of July until the end of October. Six drag lifts and a cable-car serve the highest summer ski area in the Alps. A must see is the "hall of ice"... a natural Glacier Palace beneath the top station at the Klein Matterhorn. Situated at a height of about 3810 above sea-level, it gives tourists a very unique perspective into the fascinating world of snow and ice.

Winter

When in Zermatt, you can enjoy every king of high mountain sports be it skiing or snowboarding, sledding or hiking....but if you don't prefer high mountain adventure tours, tourists can also enjoy Snow and fun parks, walking tours with snowshoes, dog-sled rides, sledding runs and 30 km of specially prepared winter hiking paths.


Why Visit Zermatt?
Matterhorn Express: comfortable 8-person gondola from Zermatt via Furi to Schwarzsee
Casino with B-permit at the Grand Hotel Zermatterhof
Free ski pass for kids aged 8 and under
Helicopter sightseeing flights with Air Zermatt
Glacier Palace in the eternal ice at Klein Matterhorn (height 3820 m)